Sarah Harding's attire is most definitely very bold. The sheer sleeve emblazoned with leaves should look cheap but manages to maintain an element of class. The colour is definitely the best asset of the dress.
With a grecian flair to it this dress is surprisingly eye catching. It should be mundane and not at all exciting enough to be credited with a mention but somehow manges to draw the eye to it and keep it there. Perhaps its the fabulous waterfall colour and subtle pleats.
This dress would be better suited to an evening meal in the height of summer or running along the sands of a beach at midnight, not on the red carpet at an internationally acclaimed and televised event! However I do have to admit that the red poppies go perfectly with her skin tone and stunning hair, not to mention the red carpet itself!
It clashes with the red carpet but the print is certainly eye catching! The print gives a classic design a modern spin and the simple jewelry means that all eyes are on the dress.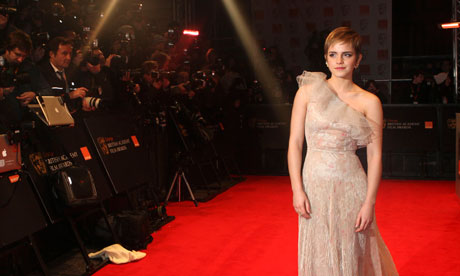 Simples and understated yet elegantly mesmerizing. The best dress of the night. All the tulle gives it a romanticizing feel and an element of magic..suitable for the girl who plays Hermione then!